The Urkiola Natural Park
Introduction
---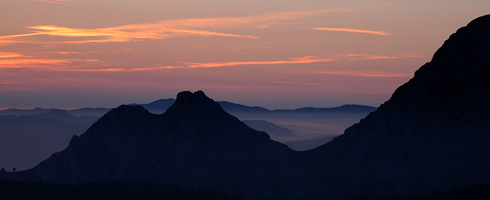 Dawn in the Urkiola Natural Park.
---
The Urkiola Natural Park was created on 29th December 1989 with the objective to ensure the protection and conservation of the natural resources, which respecting and encouraging the traditional livelihoods in this mountain region.
The Park is made up of the Aramotz mountain range, the Montes del Duranguesado and the Arangio mountain range, which form the Bay of Biscay-Mediterranean watershed. It has a surface area of 5,768 Ha and covers eight municipal districts (seven of which of them are in the historical territory of Bizkaia and one in Alava): Abadiño, Amorebieta- Etxano, Atxondo, Dima, Durango, Izurtza, Mañaria and Aramaio, the latter is in Alava. Abadiño municipal district is the second largest in terms of surface area in the Park (22%).
There are many different ways into Urkiola Natural Park given the large number of inhabited town scattered throughout its foothills. Nonetheless, the easiest way to reach the centre of the park is along the BI-623 regional road that runs from Durango to Vitoria-Gasteiz. It is the only road that crosses the Park from north to south and divides the park in half.
There is a high degree of humanisation of the Urkiola landscape due to the use and occupancy of the territory since time immemorial. Despite of this, it is a landscape of great wealth that can be considered of unrivalled quality in the Basque Country and are characteristic of the Atlantic mountains.
---