Location and How to get there
General Information
---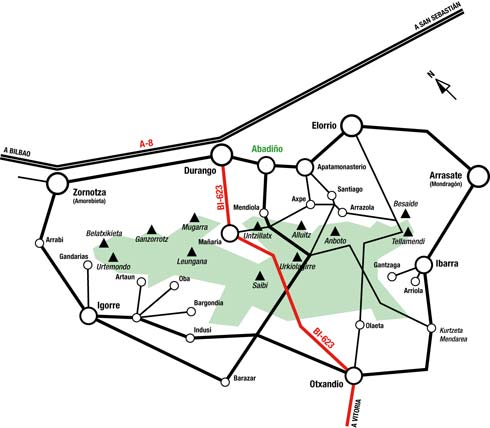 ---
The Urkiola Natural Park has a surface area of 5,768 Ha and consists of the Aramotz-Eskubaratz mountain range, the Duranguesado Mountains and the Aragio range. The park is straddled between the Bizkaia and Árava provinces, including part of the Abadiño, Amorebieta-Etxano, Atxondo, Dima, Durango, Izurtza, Mañaria and Aramaio municipal districts.
There are many different ways into Urkiola Natural Park given the large number of inhabited towns scattered throughout its foothills. Nonetheless, the easiest way to reach the centre of the park is along the BI-623 regional road that runs from Durango to Vitoria-Gasteiz. It is the only road that crosses the Park from north to south and divides the park in half.
The Urkiola pass can be reached along the BI-623 road that runs from Vitoria-Gazteiz (30 km away) to Durango (10 Km away). You can either go up by car and park in the extensive parking facilities at the pass or opt for public transport and go up on one of the coaches that run between Vitoria-Gasteiz and Durango (Continental Auto, Tel: 945 28 64 66).
If you are coming from Bilbao or San Sebastián, the best way is along the A-8 motorway (Interbiak) Durango exit and then take the BI-623 to the pass.
---