Sanctuary of the Saint Anthonys
A brief glimpse of its History
---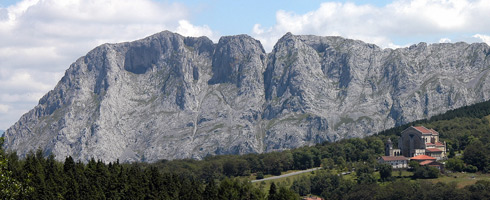 View of Urkiola Sanctuary with the Alluitz behind.
---
We do not know the exact date, but historians believe that the church was founded in the 9th century.
It was originally a chapel, that was most probably home to a pious hermit.
We know that it had a Hospital or shelter for pilgrims. The documents that have survived to the present date back to the 15th century.
In 1646, a new Sanctuary was opened and in 1870, its belfry became the tower that still stands today.
In 1899, work began on a large basilica, whose foundations can still be seen today.
In 1914 and 1925, the first two sections came into use and they were consecrated by Bishop Mateo Múgica in 1933.
Subsequent attempts to finish the Sanctuary were all fruitless for various reasons.The building was left unfinished.
In 1970, the Archbishop of Bilbao entrusted the Sanctuary of the Basque Diocesan Missions and a group of ex-missionaries have been in charge of looking after it since then.
They have brought this popular Sanctuary back to life and have made significant improvements to the inside and outside of the Sanctuary.
---