Sanctuary of the Saint Anthonys
Details about the sanctuary
---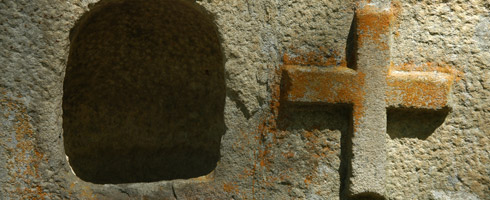 Outside close up of the sanctuary.
---
The beautiful mosaic, unveiled in June 1997, is one of the outstanding features inside the Sanctuary.It is 170 square metres.Over 850,000 tiny pieces were used to make it.It took over two years to make it at our Urkiola workshop. It was designed by José María Muñoz and is the work of Brother Peli and his fellow missionaries.
Our aim was to bring the beautiful natural surroundings, a gift from God, inside the church so it could provide the backdrop to the action of giving thanks during the mass.
The white silhouette that rises up from a tree represent the resurrected Jesus. He is the tree of life.
And because he is the Lord of time and history, he is to be found in the four seasons of the year.
The altarpiece culminates in a magnificent stained glass window, featuring the "dove of peace", the work of the artist Gabi Tamos Uranga.
Fire colours predominate the other stained-glass window, which are used to recall grenades during the war.
The images are of St. Anthony Abad crushing the seven-headed dragon, man's enemy, with his stick, and St. Anthony of Padua with Baby Jesus in his arms.
These recently restored beautiful sculpture date back to the renaissance. The image of Andra Mari is from that era.
There is another mosaic in the chapel where the Eucharist is kept. It was unveiled in 1993 and resembles a mushroom cloud in the shape of a Greek cross.
The Baroque expressive crucified Christ is particularly noteworthy, along with the images of old St. Anthony Abad, from the 16th century, and the modern St. Anthony.
The Vera Cruz and Santa Apolonia chapels can be seen from outside the Sanctuary and if you follow the old paths along the stations of the cross , you will reach a lookout point with views over the magnificent countryside.
---