Routes from Atxarte
Atxarte-Txakurzulo-Atxarte
---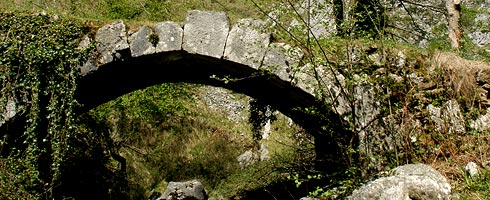 Ancient stone bridge in Atxarte.
---
Data sheet
Distance: 7 Km.
Approximate time: 3 h.
Gradient: 300 m.
Difficulty: Low-medium.
Best time to visit: Year round.
Points of Interest: Santo Cristo de Atxarte Chapel, stone bridge and ruins of the old Atxarte mill, ruins of the old road to Urkiola, reforested areas, beech forests, Urkiolagirre streams.
Route description
It is a circular route that can be done in either direction. We recommend the anti-clockwise route.
Once you have gone past the old Atxarte quarries, where you should have parked your car, you will see the Santo Cristo Chapel and the ruins of the old mill. A few metres higher up, cross the river over the old stone bridge and then go up the old road that ran from Abadiño and Urkiola. The ruins of the path next to the bridge, together with the remains at the end of the climb, are proof of the previously importance of that path.
After climbing for half an hour, you will reach the SantiGaztelu farmstead next to the road up from Mañaria to Urkiola. As you look towards nearby Mount Untzillatx, you will have a good view of the Gatzaieta farmstead. Then, take the path leading off to your left to the Txakurzulo farmstead, which is the end of the climb up. If you were to continue upwards, it would take you 20 minutes to reach the Urkiola pass. However, the recommended route flattens out and you should continue along the wide forest track along the northern slope of mount Urkiolagirre.
As you go along the path, you can enjoy the views of the surrounding mountains. From left to right, you can see: Eskuagatx, Leungana, Mugarra, Untzillatx, Aitz-Txiki and Alluitz. Further on, the track goes through a cypress plantation, followed by a large beech forest. One of the attractive features of this route are the many waterfalls in the steams running down the sides of Mount Urkiolagirre. When you reach the Mendiola stream, the path turns sharply to the left and begins to make its way down the other side of the valley. The Alluitz ridge will be to your right. Continue down the path on the long descent to the bottom of the valley. You will first go past the Intxaurralde farmstead and later on, past the Olaetxe property, which will be to your left as you make your way down. You will end up back at your starting point under the impressive Aitz-Txiki and Untxillatx walls.
---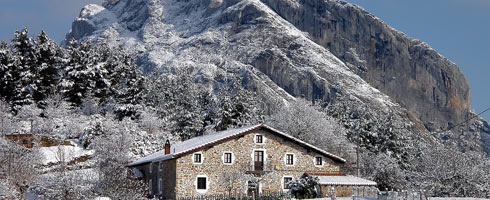 Gatzaieta farmstead with Untzillatx behind.
---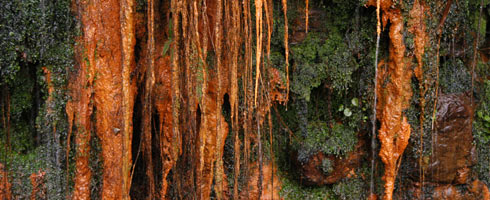 Reddish waters next to the Txakurzulo track.
---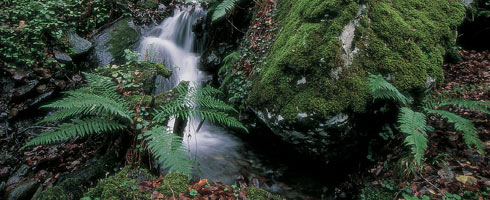 Mendiola stream.
---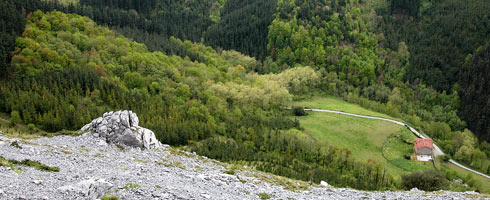 Intxaurralde farmstead surrounded by forests of native species and forestry plantations.
---