Edible fungi
Amanita vinosa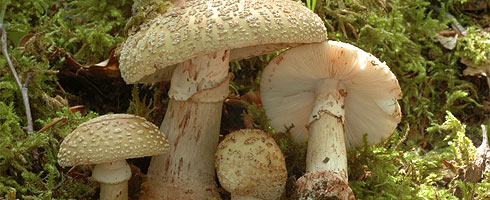 Amanita Rubescens - Roger's Mushroom
---
Sin.:Amanita rubens Quelet
From rubescens (lat) = That gets reds. Due to its reddish flesh.
Common name = Roger's Mushroom
CAP: 5 to 15 cm in diameter. Convex to shield shaped. Rosy brown to flesh colour, sometimes with a yellowish flush covered with white or slightly reddish patches. Edge not straightened. Black-white verrugas.
GILLS: White, wide, close together, turn reddish-brown with age.
STEM: 5-15 x 1.3 cm, white, strongly flushed with cap colour, white above the striate membranous ring, becoming reddish near the bulbous base which occasionally has scattered scaly patches of volva.
FLESH: Flesh white, gradually becoming pink when bruised or exposed to air, smell not distinctive, flavour not strong or rather bitter.
HABITAT: From mid-spring to autumn in any type of forests. It is very common here in pine forests.
EDIBILITY: Good to eat. It must be cooked to over 70º C. It is poisonous if eaten raw.
OBSERVATIONS: Very abundant species that comes in a large variety of forms and sizes. It can be confused with A.spissa, A.franchetii and A,pantherina, which is poisonous , but the flesh does not turn red when the flesh is bruised in these species.
---
Text and pictures: Plácido Iglesias.