Edible fungi
Hedgehod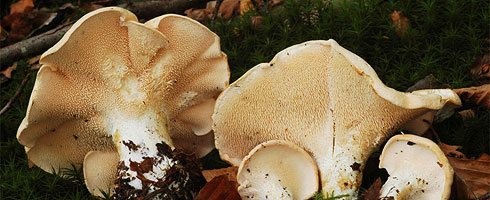 Hydnum repandum – Hedgehog
---
From repandum (lat) = Rounded upwards. Due to its shape (?)
Common name = (eng) Hedgehog
CAP: 5 to 10 (15) cm in diameter. Creamy-white to orangey-yellow, convex, then rather depressed, irregular. Velvety surface, lobulated edge.
HYMENOPHORE: Formed by fragile goads, tight, decurrent, the colour of the cap or lighter.
STEM: Whitish, eccentric centre, fat, irregular, fragile.
FLESH: Fat, fragile, white, odourless, rather bitter flavour, yellowish when touched.
HABITAT: End of the summer, autumn and winter in deciduous and conifer forests.
EDIBILITY: Very tasty, especially when young.
OBSERVATIONS: Highly sought after mushroom as it is unmistakable thanks to its gourds under its cap. It usually comes up in large mushroom beds. It can be confused with H.albidum, which is totally white and which usually grows in wild pine forests and with H.rubescens, which is smaller and less fleshy, with long gourds and orangey in colour. You should use gloves when you clean H.repandum as it can leave marks on your hands that are difficult to remove.
---
Text and pictures: Plácido Iglesias.