Edible fungi
March Mushroom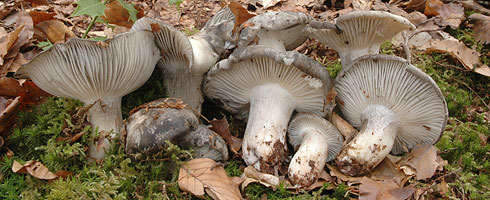 Hygrophorus marzuolus – March Mushroom
---
From marzuolus (lat) = March. Due to the time of the year when it appears. Common name = (eng) March Mushroom
CAP: 4 to 12 cm in diameter, first convex, then flat. Edge straight to flat, wavy, white with grey to blackish patches.
GILLS: Fat, spaced out, lamelulated, decurrent, white, then grey.
STEM: Fleshy, cylindrical, short, fat, white then greyish, darker in the lower part, sometimes stripped.
FLESH: White, grey under the cuticle, thick, soft, barely any smell or flavour.
HABITAT: Winter, from January to March in pine and mixed beech forests.
EDIBILITY: Excellent, though they are very difficult to find as they grow underground.
OBSERVATIONS: It cannot be confused with any other mushroom, due to the time of year when it grows. It is highly sought after in our region, even though it is very difficult to find as it is hidden under dry leaves. It is the earliest of the edible mushrooms and thanks to its flavour and meatiness, it has highly sought after gastronomically speaking.
---
Text and pictures: Plácido Iglesias.